**************************************************************************************************************************************
PROJECT TITLE: International Collaborative Study for the Validation of a HILIC-MS/MS Method for Analysis of Paralytic Shellfish Toxins and Tetrodotoxin in Live Bivalve Molluscs
Principal Investigator: Dr Andrew D. Turner
Address: Centre for Environment Fisheries and Aquaculture Science (Cefas)
Tel/Fax: +44 (0)1305 206636 / +44 (0)1305 206601
E-mail: This email address is being protected from spambots. You need JavaScript enabled to view it.
Home page URL: https://www.cefas.co.uk/
Other key persons: Dr Tim Harwood, Cawthron Institute, New Zealand
Objectives: The aim of this project will be to conduct a Collaborative Study of the LC-MS/MS method for PSP toxins in shellfish, using a suitable number of international toxin testing laboratories. The work will require active collaboration with organisations worldwide to validate the method, ultimately demonstrating its fitness for purpose for official control testing. The final achievement will involve the delivery of an extensive data set, the publication of the collaborative study and ultimately the delivery of a formally-approved official method of analysis.
The project will be conducted through a collaborative study lead by Dr Andrew Turner at Cefas together in partnership with Dr Tim Harwood at Cawthron Institute. Additional guidance and collaboration will be provided by the EURLMB. The project has been discussed with international collaborators and is supported by Prof Ana Gago-Martinez Director of the EURLMB and James Hungerford, USFDA and Co-chair of AOAC Marine Toxin Task Force.
**************************************************************************************************************************************
PROJECT TITLE: Effects of climate changes on harmful algal and cyanobacterial blooms along the South Atlantic Ocean
Principal Investigator: Dr Márcio Silva de Souza
Address: Oceanography Institute (Federal University of Rio Grande - FURG), Italia Av., km-8, Carreiros, PO Box. 474, Rio Grande (Rio Grande do Sul), Zip Code: 96203-900
Tel/fax: +5553-32336737
E-mail: This email address is being protected from spambots. You need JavaScript enabled to view it.
Other key persons: Dr. João Sarkis Yunes*
Dr. José Henrique Muelbert, Oceanography Institute (FURG), Italia Av., km-8, Carreiros, PO Box. 474, Rio Grande (Rio Grande do Sul), Zip Code: 96203-900; +5553-32336737
Objectives: Global warming effects, including the contribution of several anthropic activities such as the burning of fossil fuels and deforestation, can affect biomes and many physical and chemical features of the oceans. These effects over the dynamics and structure of phytoplankton (including cyanobacteria) are not yet well understood. However, shifts in duration and frequency of meteorological events have been associated with the increasing in harmful algal blooms (HABs) across many coastal regions worldwide. This proposal aims at assessing direct and indirect effects of climate changes over these phytoplankton blooms in the Atlantic Ocean (between 0º35ºS), taking into account environmental database analysis combined with notifications of HABs in Brazil and, also, further lab experiments with target species that form known HABs. As far as possible, there will be compiled physical, meteorological and hydrographical information as well phytoplankton data across the study region since 1970s. With this dataset, we will evaluate the spatial and temporal environmental variability linking to bursts of HABs. Also, we intend to build predictive models of these biological events for the Brazilian coast and to carry on bioassays with certain strains of HAB obtained in some local laboratories. Temperature and nutrient concentration (nitrate, phosphate) are the variables chosen a priori to be tested. This project is being conducted at the Oceanography Institute of the Federal University of Rio Grande (Brazil) as my pos-doc fellowship research.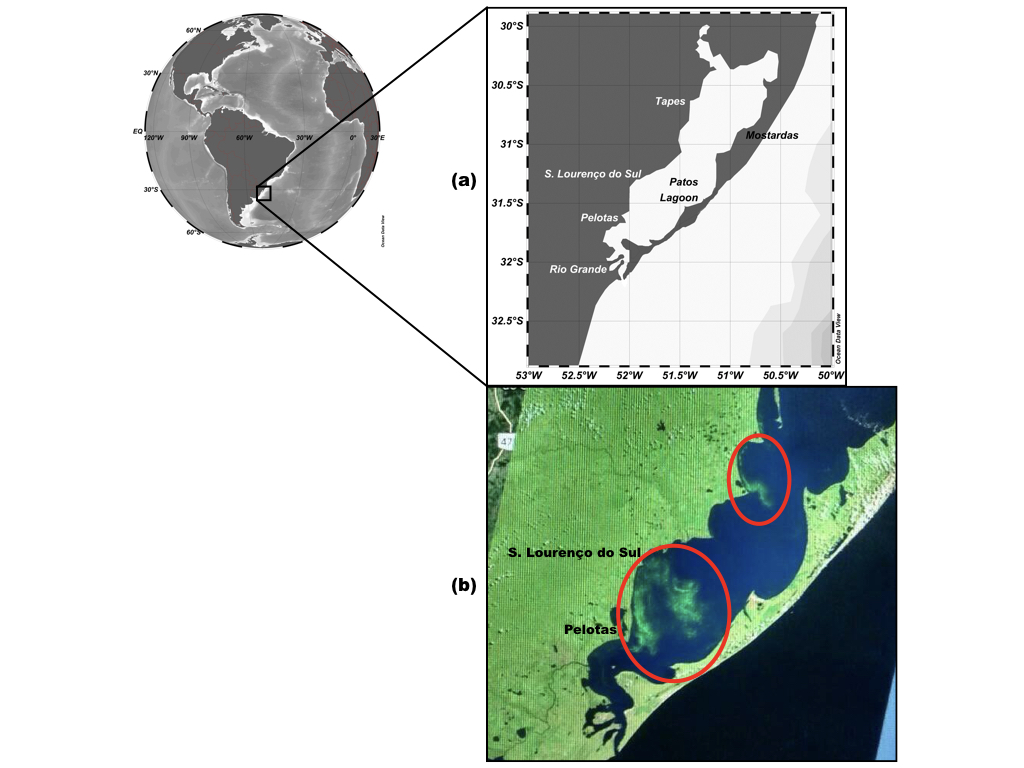 Map of the study area showing (a) cities at the west margin of the Patos Lagoon system, where patches (two red ellipses) of Microcystis spp. have been notified; (b) patches of Microcystis spp. (inside of red circle) seen on 02 February 2017, retrieved from Landsat-8 Enhanced Thematic Map plus (ETM+; https://eros.usgs.gov/satellite-imagery).
**************************************************************************************************************************************
PROJECT TITLE: Predicting Risk and Impact of Harmful Events on the Aquaculture Sector
Acronym: PRIMROSE
Principal Investigator: Dr. Joe Sylke
Address: Marine Institute, Oranmore, Co. Galway, Ireland
Tel/Fax: +353 91 387 200
E-mail: This email address is being protected from spambots. You need JavaScript enabled to view it.
Home page URL: https://www.marine.ie/Home/home
Other key persons:
Dr. Julie Maguire, Indigo Rock, Ireland;
Prof.. Keith Davidson, SAMS, Scotland UK;
Dr. Ruth Henderson, SeaFood Shetland, Scotland UK;
Dr. Marc Sourisseau, IFREMER, France;
Dr. Peter Miller, PML, England UK;
Dr. Manuel Ruiz, IEO, Spain;
Dr. Luz Maman, AGAPA, Spain;
Dr. Luis Ferrer, AZTI, Spain.
Dr. Marcus Mateus, IST-Lisbon, Portugal
Objectives: The European aquaculture sector supports several North Atlantic coastal communities. The effects of harmful algal blooms (HABs) and microbial pathogens can have a massive impact on this sector. HABs negatively affect shellfish and finfish aquaculture operations through the rapid accumulation of biotoxins in farmed shellfish consumed by humans, and by killing entire stocks of farmed fish due to toxins, physical damage and deoxygenation. The estimated economic impact of HABs in EU waters may be as high as €919 million per year. Prevention of natural HABs is not possible but reliable early warnings may facilitate effective mitigation measures to safeguard public health and private business operations.
The main objective of Project PRIMROSE is to provide a reliable standard, automated system for reporting and forecasting HABs and microbial events that impact aquaculture operations in European coastal waters. We will build on existing HAB early warning systems developed by our previous successful forecasting system during its predecessor, Project ASIMUTH (reported in a special edition of Harmful Algae, 2016). New features of PRIMROSE will include; an expanded system for new fish- and shellfish-producing areas; improved HAB forecasts with greater resolution; a wider suite of parameters; an evaluation of the potential for mitigation; new index based risk assessments; and a valuable information service for policy makers, risk regulators, food safety authorities and the aquaculture sector, from Shetland to Canary Islands. The new forecast will include microbial risk (eg. E. coli, Norovirus, Vibrio) and environmental/ climate impacts, in addition to improved HAB predictions.
PRIMROSE will benefit from improved spatial resolution, utilising new generation Sentinel data products for the main aquaculture production areas in France, Ireland, Portugal, Spain and the UK. Improved ASIMUTH-developed methodologies for producing HABs forecasts will result from operational oceanographic forecasts, downscaled regional hydrodynamic models, novel satellite data, phytoplankton/ biotoxin monitoring data and expert evaluation. PRIMROSE will upgrade the current HAB forecast service to the regional scale; providing mesoscale trans-national HAB and microbial risk information, risk assessments and knowledge exchange with the international user community. We intend to maintain close involvement/co-development with industry partners throughout the project to ensure maximum impact of the project outputs.
New information from the Marine Strategy and Water Framework Directive monitoring programs; from a new generation of sensors aboard the Sentinel suite of satellites, and sensors collecting underway data aboard ferries, will also be utilised for the alert system. The aquaculture sector relies on sufficient early warning of harmful events, so that effective mitigation measures can be utilised. PRIMROSE will both develop a trans-national short- to medium-term risk forecast, and a long-term assessment of climate impact on HABs and pathogens.
The main objective of PRIMROSE is to provide a reliable standard, automated system for reporting and forecasting HABs and microbial events that impact aquaculture operations in European coastal (AA) waters.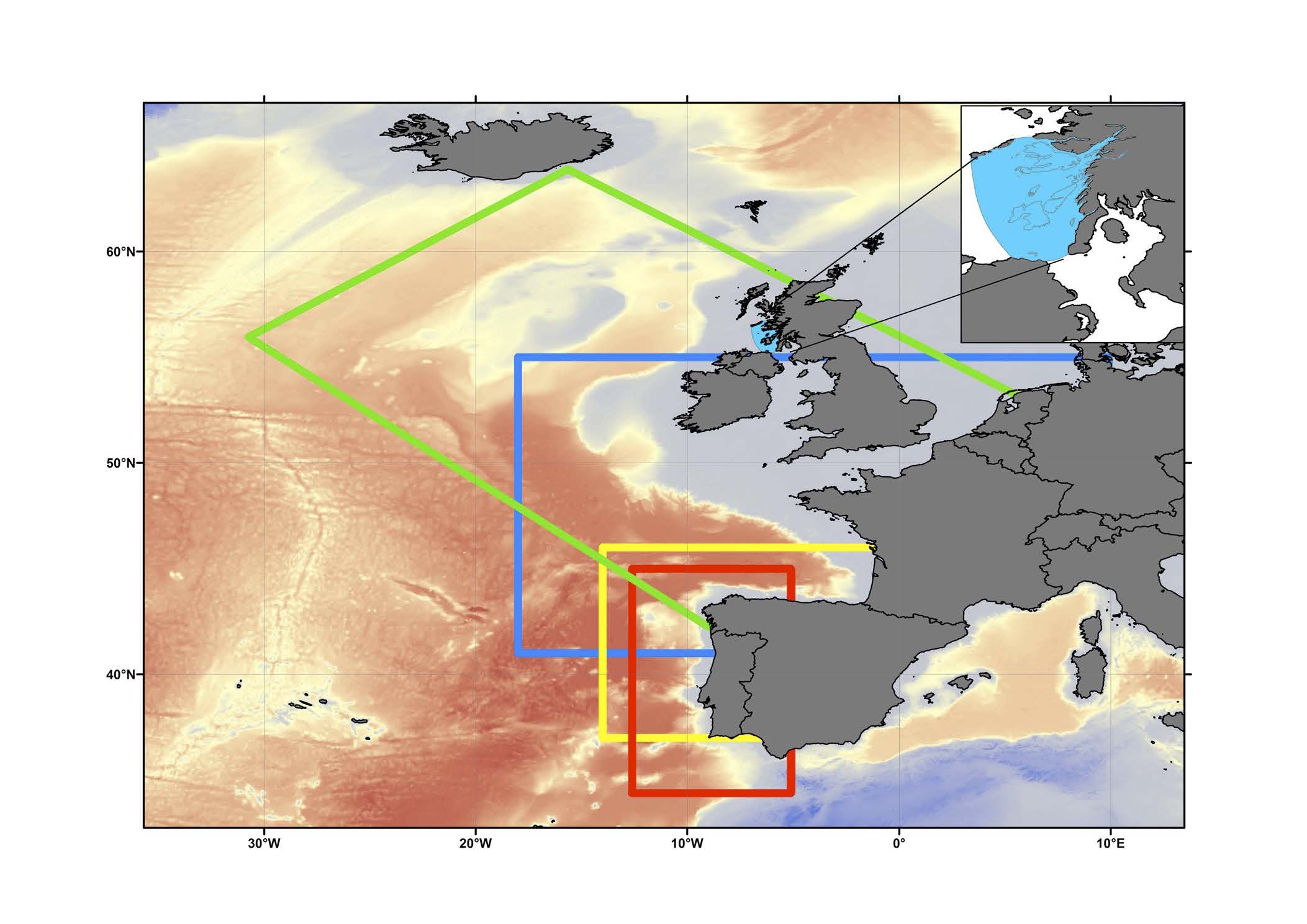 Asimuth domain illustrating the seaboard areas for which that HAB models and risk assessments were developed. From: Davidson et al. (2016). Preface: Forecasting the risk of harmful algal blooms. Harmful Algae 53: 1–7.
**************************************************************************************************************************************
PROJECT TITLE: Source and fate of ciguatera fish poisoning-toxins and its implication on coral reef ecosystem health and seafood safety
Acronym:
Principal Investigator: Dr. Po Teen Lim
Address: Bachok Marine Research Station, Institute of Ocean and Earth Sciences, University of Malaya, 16310 Bachok, Kelantan, Malaysia
Tel/Fax: +60 97785001/ 5006
E-mail: This email address is being protected from spambots. You need JavaScript enabled to view it., This email address is being protected from spambots. You need JavaScript enabled to view it.; https://umexpert.um.edu.my/cpleaw
Home page URL: http://www.harmfulalgae.info, https://umexpert.um.edu.my/ptlim
Other key persons:
Dr. Chui Pin Leaw, Bachok Marine Research Station, Institute of Ocean and Earth Sciences, University of Malaya, 16310 Bachok, Kelantan, Malaysia; https://umexpert.um.edu.my/cpleaw; This email address is being protected from spambots. You need JavaScript enabled to view it.
Dr. Hai Feng Gu, Third Institute of Oceanography, State Oceanic Admistration (SOA), Xiamen, 261005, China; http://www.tio.org.cn; This email address is being protected from spambots. You need JavaScript enabled to view it.
Objectives: Harmful algal blooms in benthic system (BHABs) have been increased rapidly under the backgrounds of global climate changes and human activities. The detrimental effects of BHABs on marine coral ecosystems and human health make it one of the research priorities in HAB science nowadays. Toxins produced by some species of Gambierdiscusare associated with a seafood illness - Ciguatera Fish Poisoning (CFP). From scientific perspective, the following key questions need to be answered: What are the biodiversity/distribution patterns of BHABs in space and time? What is the status of BHABs threat to coral ecosystems? How BHABs respond to the environmental changes? What are the possible relationships with the seasonal benthic community composition? What is the best suited of detection technologies that can be developed to support monitoring of BHAB and their toxins? This study intends to study the BHAB species assemblages at spatial and temporal scales and identify mechanisms underlying the community dynamics and their interactions with the coral reef ecosystems. A dataset on the biodiversity and toxicity of BHAB species, along with environmental parameters and health status of coral ecosystems, will be established for the investigated areas based on regular, systematic field-based surveys. By measuring the environmental variability and determining threshold levels of BHAB-related phycotoxins for developmental and behavioural endpoints of fishes, a holistic assessment of the ecological health risks that BHABs posed to coral ecosystems can be conducted. A monitoring framework could be developed for allowing a sustainable use of goods and services provided by the coral ecosystems. It is foresee that the outcomes of this study will be substantial in providing a reference towards an internationally research in BHABs.
Some activities:
* Training workshop "Applying analytical method for detecting ciguatoxin in fish". Organized by IOC WESTPAC Toxic Marine Organisms (WESTPAC-TMO) at Institute of Oceanography, Nha Trang from 5-9 April 2018. Responsible: Dr Leaw.
* Workshop on sampling methods, microscopic and molecular techniques of HAB species organized in Malaysia (8-14 July 2018) with financial support from the Southeast Asia Fisheries Development Center (SEAFDEC)-Marine Fisheries Research Department (MFRD), in collaboration with IOC-WESTPAC HAB Program. The workshop includes lectures and hand-on training for research and monitoring staffs from fisheries agencies in Southeast Asian countries.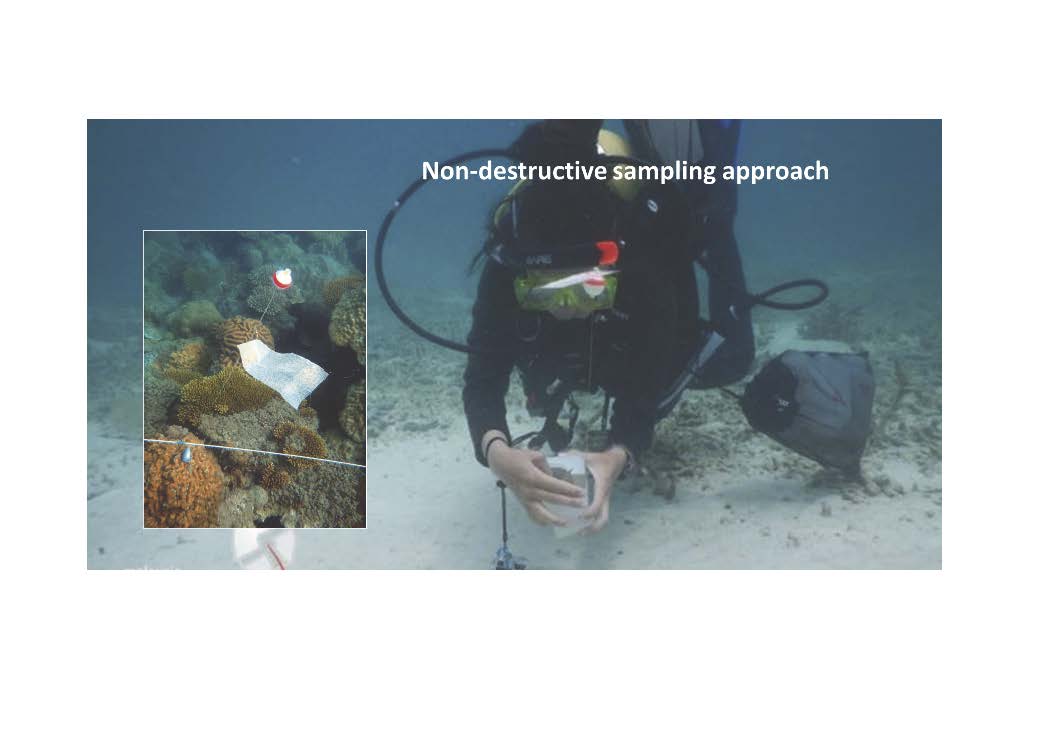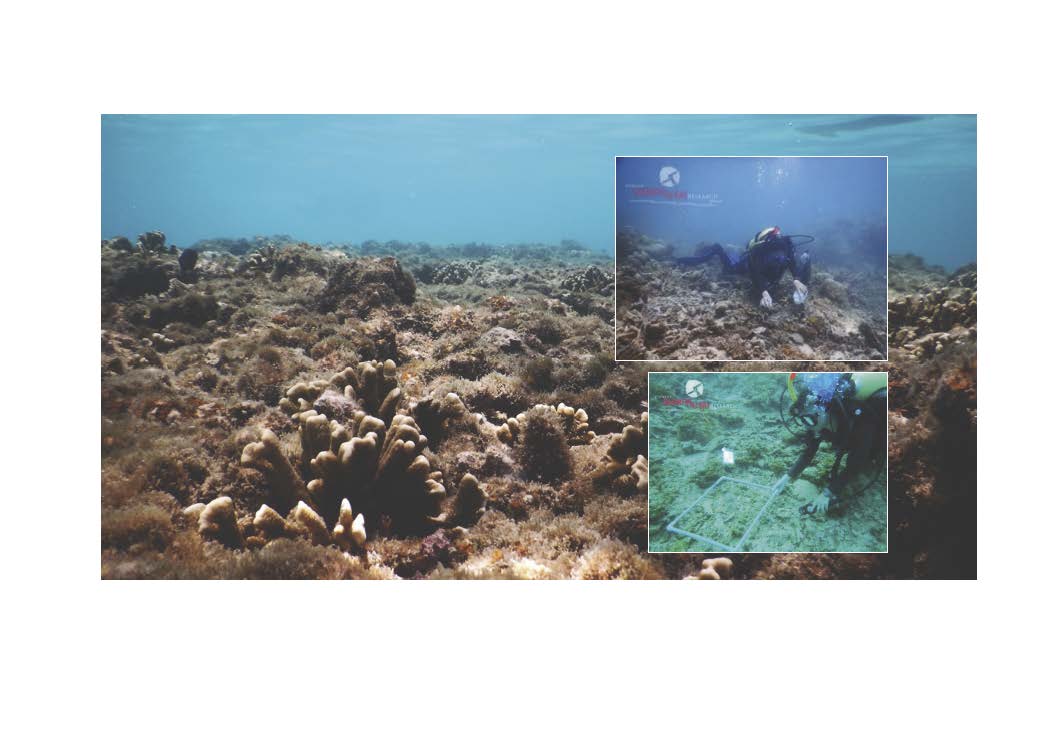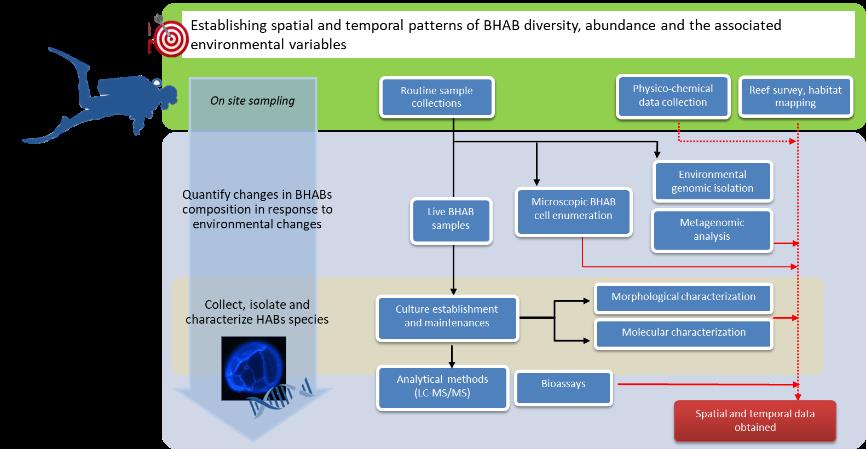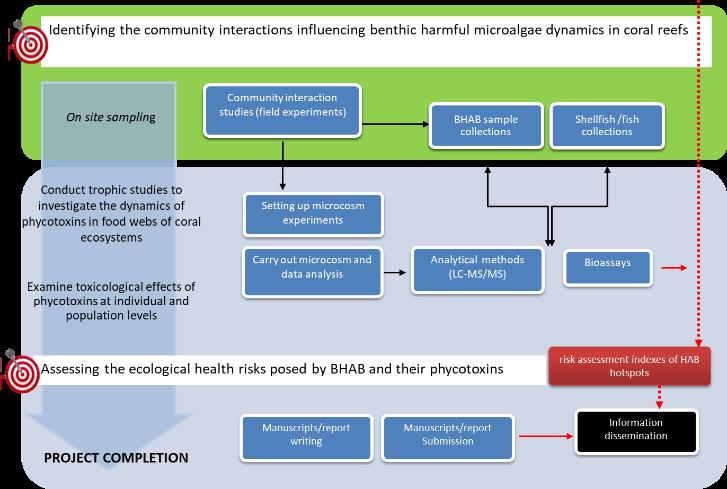 **************************************************************************************************************************************
PROJECT TITLE: Assessment of Risk of Benthic Life Stages of Toxic Dinoflagellates to the Seafood Sectors of New Zealand and France
Acronym: Cyst Risk
Principal Investigator: Dr. Kirsty Smith
Address: Cawthron Institute, 98 Halifax Street East, Nelson 7010, New Zealand
Tel/Fax: +64 3 548 2319
E-mail: This email address is being protected from spambots. You need JavaScript enabled to view it.
Home page URL: http://www.cawthron.org.nz/people/95-kirsty-smith/
Other key persons: Dr. Kenneth Mertens, Ifremer, ODE/UL/LER Bretagne Occidentale, Station de biologie marine, Place de la Croix, BP 40537, 29185 CONCARNEAU CEDEX, France; +33 2 98 10 42 82; http://annuaire.ifremer.fr/cv/22727/en/; This email address is being protected from spambots. You need JavaScript enabled to view it.
Objectives:
Harmful algae blooms (HABs) negatively impact both New Zealand and French seafood sectors, with risks to both seafood exports and the health of recreational fishers. Many toxic dinoflagellate species develop blooms and have complex life cycles with a resting stage or cyst. Little is known about the direct uptake of dinoflagellate cysts into the food chain or whether it poses a health risk to seafood consumers. This two-year project will enable New Zealand experts to establish a collaborative relationship with French scientists at Ifremer and MARBEC who are experts in HAB cysts. The specific aim of this project is to identify benthic life stages of three high priority toxic dinoflagellate groups, namely, Alexandrium, Azadinium and Vulcanodinium. Cysts will be isolated from sediments around New Zealand and France. Cyst morphology, molecular genetic composition and toxicity will be determined. By identifying and establishing the abundance of benthic cysts beds in both France and New Zealand, predictions of blooms can be made and their likely risk to consumers assessed.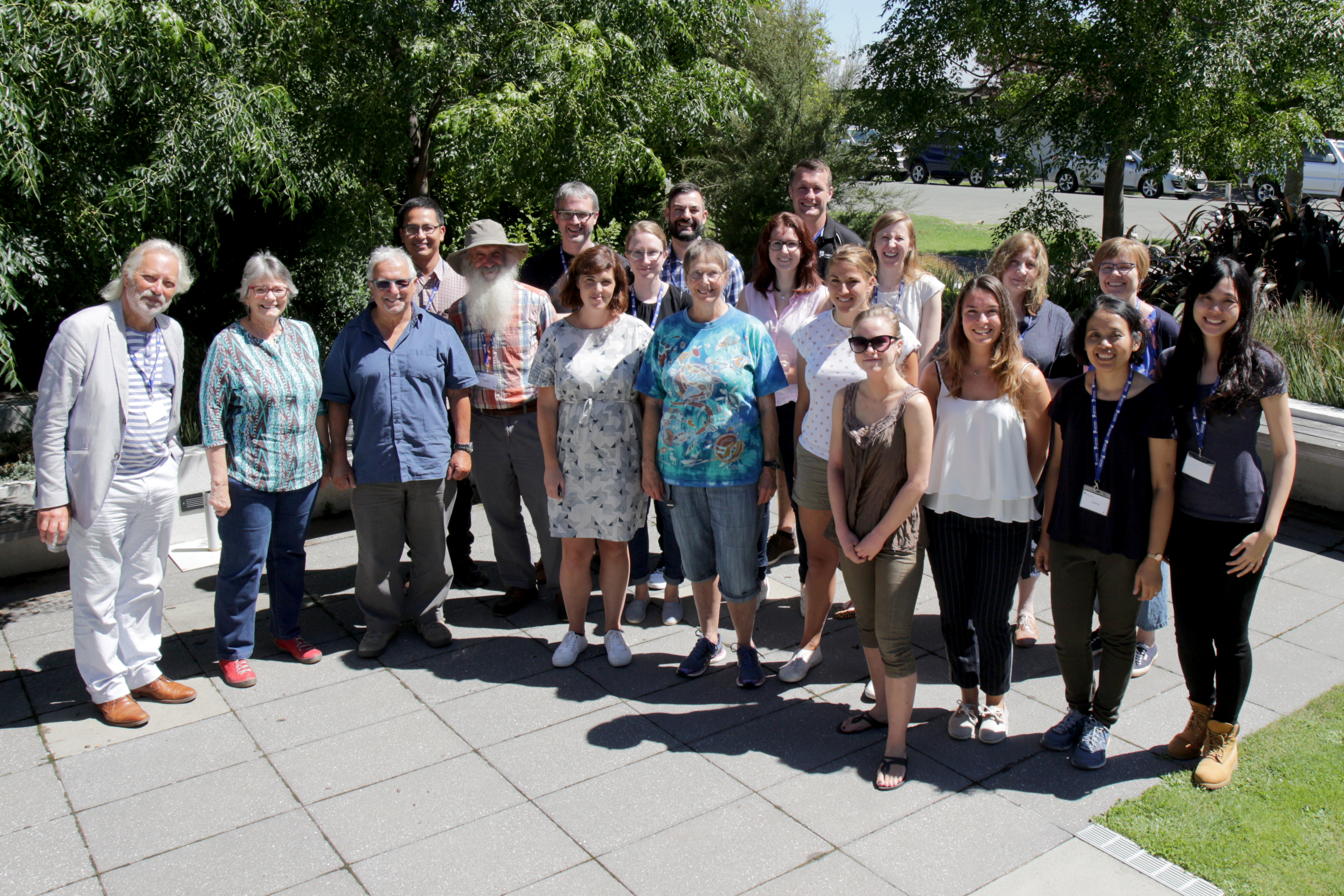 Some activities:
* A workshop (included picture above) on morphological and molecular identification techniques of toxic HAB species, led by Drs Mertens and Smith, was held in New Zealand (12-14 February 2018) to assess both morphological and novel molecular methods for cyst identification. It also provided training for those involved with monitoring programmes internationally (both for micro-algae and invasive species).
* A follow-up workshop led by Drs Smith and Mertens, to coincide with ICHA 2018 in Nantes (France; 21-26 October 2018) will ensure the transfer of expertise and uptake of methods internationallythe transfer of expertise and uptake of methods internationally.
**************************************************************************************************************************************
PROJECT TITLE: Co-development of Climate services for adaptation to changing Marine Ecosystems
Acronym: Co-CliME
Coordinator: Dr. Eleanor O'Rourke
Address: Ocean Science & Information Services, Marine Institute, Rinville, Oranmore, Co. Galway, H91 R673, Ireland
Tel/Fax: +353 (0) 91 387 496
E-mail: This email address is being protected from spambots. You need JavaScript enabled to view it.
Home page URL: http://www.jpi-climate.eu/nl/25223446-Co_CliME.html (temporal)
Other key persons:
Maguire Julie, Daithi O'Murchu Marine Research Station, Ireland
John Uwe, Alfred Wegener Institut, Germany
Berdalet Elisa, Consejo Superior de Investigaciones Científicas, Spain
Hess Philipp, Institut Francais de recherche pour l'Exploitation de la Mer, France
Travers Muriel, University of Nantes, France
Lemée Rodolphe, Universite Pierre et Marie Curie, France
Hovelsrud Grete, Center for International Climate and Environmental Research – Oslo, Norway
Naustvoll Lars Johan, Institute of Marine Research, Norway
Stoica Elena, National Institute for Marine Research and Development "Grigore Antipa", Romania
Andersson Helen, Swedish Meteorological & Hydrological Institute, Sweden
Barquet Karina, Stockholm Environment Institute, Sweden
Objectives: European coastal ecosystems are changing as a result of interactions between a number of drivers including overfishing, pollution, and climate change. Changes in marine ecosystems will impact on human health, food safety and the future sustainability of sectors including aquaculture, fisheries and tourism. Climate projection information is plentiful and there is considerable activity in marine ecosystem impact modelling; however, a disconnect remains between delivery of this information and its effective uptake by end users and policy makers. The CoCliME project will co-develop and co-produce a set of regionally focused climate services to address key impact areas including human health, aquaculture, fisheries and tourism across the regional seas of Europe. The developed services, and associated decision support tools, will empower and support vulnerable coastal sectors to accelerate adaptive decision-making and feed into key governance mechanisms such as the Marine Strategy Framework Directive, Marine Spatial Planning, and local, national and European adaptation planning. The project team brings together a newly established consortium of boundary organisation experts in co-development of climate services with leaders in marine ecosystem research, regional ocean climate modellers, and, at its heart, a number of targeted users and decision makers in each region. The project will offer an innovative and user-focused approach and the development of a societally relevant climate service framework, in addition to the bespoke climate services, that will be transferable to other regions, impact areas, users and marine ecosystem vulnerabilities. Through a regional case study approach, the specific needs of national and European marine ecosystem impact and adaptation planners and regulatory authorities will be identified and addressed through an evidence-based and iterative process designed to feed into climate adaptation strategies across the EU and beyond. CoCliME is part of the ERA4CS, an ERA-NET initiated by JPI Climate, and funded by EPA (IE), ANR (FR), BMBF (DE), UEFISCDI (RO), RCN (NO) and FORMAS (SE), with co-funding by the European Union (Grant 690462).
Some activities:
* A coordinated sampling in European waters to determine the presence of benthic harmful dinoflagellates, with a special focus on the genus Ostreopsis is been conducted in the summer of 2018.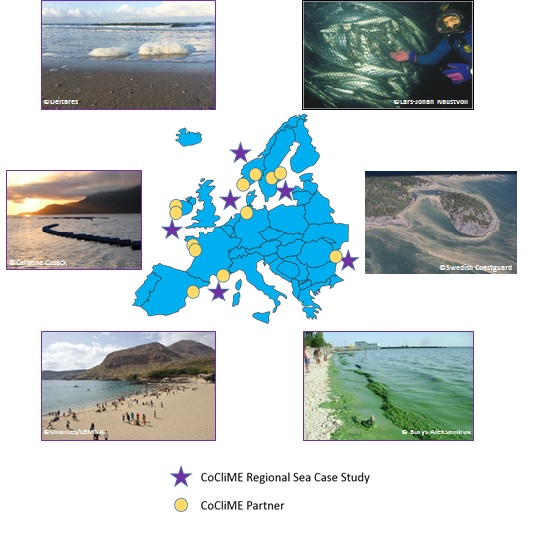 *****************************************************************************************************************************
PROJECT TITLE: Innovative technologies for the early detection of Harmful Algal Bloom threats
Principal Investigator: Dr Lincoln Mackenzie
Address: Cawthron Institute, 98 Halifax Street, Private Bag 2, Nelson, New Zealand 7010
Tel/Fax: +64 3 5469464
E-mail: This email address is being protected from spambots. You need JavaScript enabled to view it.
Home page URL: http://www.cawthron.org.nz/
Other key persons:
Dr Jonathan Banks, Cawthron
Dr Kirsty Smith, Cawthron
Mr Ben Knight, Cawthron
Dr Rapael Kudela, UCSC Santa Cruz
Mr Mark Vanasten, Diagnostic Technologies
Dr. Jason Acker, Aquila Diagnostic Systems Inc

Objectives:
The proposed research aims to apply innovative technologies for detecting harmful phytoplankton species in near real time, thereby enabling rapid response of the aquaculture industry and other stakeholders to the onset of HABs and where possible mitigate their impacts.
Specifically, the project will involve field and laboratory trial s of three complementary innovative technologies (the HydrogelTM qPCR assay, the DinoDTec Saxitoxin gene assay and the Imaging FlowCytoBot (IFCB) instrument) for the detection and monitoring of harmful planktonic micro-algae. This project is applied research aimed at improving the effectiveness, and lowering the cost, of current harmful algae monitoring methods.
Following essential formatting and experimental validation trials to be carried out under this project, the HydrogelTM assay will provide a fast and effective screening method competitive with the current microscopy methods for detecting problem algae species. The assay will be sensitive, simple and robust and able to be carried out in a basic laboratory at sea or in an on-shore processing facility by an appropriately trained person.
The HydrogelTM assay is a field deployable qPCR assay developed by Aquila Diagnostic Systems, Edmonton, Canada (http://www.aquiladiagnostics.com/) with its primary applications in the veterinary and human health (e.g. Ebola, Malaria) diagnostic areas. Cawthron researchers have worked collaboratively with scientists at Aquila for some time and the efficacy of this technology for the diagnosis of oyster herpes virus infection has been demonstrated in New Zealand and found to offer a viable, low cost method of conducting OsHV-1 assays in the field. The unique feature of the HydrogelTM is that reagents are stabilised by polymerisation in a gel matrix which means the usual refrigeration of reagents is not required. As the gels are pre-prepared, operator input is minimal and only requires basic facilities. Because the reactions are sealed, the risk of contamination is reduced and can be carried out almost anywhere with rudimentary laboratory facilities. The research will involve the transfer of developed qPCR assays that target the most important toxic marine HAB species in New Zealand, to the HydrogelTM format. We will specifically target DNA sequences unique to the ichthyotoxic species Pseudochattonella verruculosa, Heterosigma akashiwo and Karenia brevisulcata, and the paralytic shellfish toxin producers Alexandrium pacificum and A. minutum. Parallel trials of the commercially available DinoTec STX gene assay will be carried out alongside the HydrogelTM assay when screening for toxic Alexandrium spp.
The Imaging FlowCytobot (IFCB) is an-autonomous submersible, in situ imaging flow cytometer, manufactured by McLane Labs, USA (http://mclanelabs.com/imaging-flowcytobot/). It combines flow cytometry and video technology to capture images of individual cells. After training the software, the images can be automatically classified to provide, identification and abundance and bio-volume estimates. Organisms can be classified to the genus or species level with an accuracy comparable to that of human experts. This enables real time reporting of species abundance, biomass and community composition. We have the opportunity through collaboration with Professor Raphael Kudela, University of California at Santa Cruz to trial a IFCB instrument in the Marlborough Sounds over the high risk HAB period in summer 2018-19. Over the duration of the project the IFCB will be deployed from various aquaculture installations (e.g. salmon farms) and on routine monitoring vessels and its capabilities demonstrated to aquaculture industry practitioners.
*****************************************************************************************************************************
PROJECT TITLE: EukRef: The 18S annotation initiative, 3rdWokshop
Principal Investigator: Javier del Campo
Address:Passeig Marítim de la Barceloneta 37-49, 08003 Barcelona, Catalonia
Tel/Fax: +34 616342889
E-mail: This email address is being protected from spambots. You need JavaScript enabled to view it.
Home page URL: http://emm.icm.csic.es/
Other key persons (name, title and institution):
Dr. Cédric Berney, UniEuk Taxonomic Coordinator, Station Biologique Roscoff, France

Objectives:
Environmental sequencing has greatly expanded our knowledge of micro-eukaryotic diversity and ecology by revealing previously unknown lineages and their distribution. However, the value of these data is critically dependent on the quality of the reference databases used to assign an identity to environmental sequences. Existing databases contain errors, and struggle to keep pace with rapidly changing eukaryotic taxonomy, the influx of novel diversity, and computational challenges related to assembling the high-quality alignments and trees needed for accurate characterization of lineage diversity.
UniEuk (www.unieuk.org) is an open, community-based and expert-driven international initiative to build a flexible, adaptive universal taxonomic framework for eukaryotes, focused primarily on protists. The UniEuk system comprises 3 complementary modules allowing direct community input:
- EukRef, a standardized, open-source bioinformatics pipeline that allows taxonomic curation of publicly available phylogenetic marker sequences (starting with 18S rDNA), generating homogeneous sets of curated, aligned sequences and phylogenetic trees.
- EukBank, a public repository of high-throughput metabarcoding datasets (starting with the V4 region of 18S rDNA) that allows monitoring of total eukaryotic diversity (e.g. saturation, phylogeny) across biomes, and identification of ecologically relevant new lineages.
- EukMap, a user-friendly representation of the taxonomic framework in the form of a publicly navigable tree, fully editable by registered users, where each node/taxon is associated with standardized features (name, contextual data, links to pictures and literature, etc.).
EukRef (eukref.org) is an ongoing community-driven initiative that addresses the above mentioned challenges by bringing together taxonomists with expertise spanning the eukaryotic tree of life and microbial ecologists that use environmental sequence data to develop reliable reference databases across the diversity of microbial eukaryotes. EukRef organizes and facilitates rigorous mining and annotation of sequence data by providing protocols, guidelines and tools. The EukRef pipeline and tools allow users interested in a particular group of microbial eukaryotes to retrieve all sequences belonging to that group from INSDC (GenBank, ENA or DBJD), to place those sequences in a phylogenetic tree, and to curate taxonomic and environmental information for the group. We provide guidelines to facilitate the process and to standardize taxonomic annotations. The final outputs of this process are 1) a reference tree and alignment, 2) a reference sequence database including taxonomic and environmental information, and 3) a list of putative chimeras and other artifactual sequences. These products will be useful for the broad community as they become publicly available (at eukref.org) and are shared with existing reference databases.