GlobalHAB news and events are announced at the front of this web site and in the IOC 'Harmful Algae News' newsletter which also serves as the newsletter for GlobalHAB. Link to download of Harmful Algae News.
GlobalHAB symposium on automated in situ observations of plankton
The aim of the symposium is to bring together experts on, and users of, automated in situ imaging systems to present methods, recent results and to share experiences. Another aim is to carry out a comparison of results when analysing plankton communities quantitatively. Young scientists are particularly encouraged to attend the symposium and a special follow-on workshop for young scientists on data processing and report/article writing. More information can be found
here
.
Dates 
Symposium: 22-26 August 2022
Small group of participants processing generated data: 29-30 August 2022
Deadline for registration
15 March 2022
Venue
Kristineberg Marine Research Station
Kristineberg 566
Fiskebäckskil SE-451 78
Sweden
https://www.gu.se/en/kristineberg

GlobalHAB Webinar Series - Modelling and Prediction of Harmful Algal Blooms
We are delighted to announce that we will start an online series of open seminars and discussions starting in June 2021 to address the grand challenge of predicting harmful algal blooms. This monthly series will be delivered by six experts and the topics will cover size-based models, acclimation models, model validation, and machine learning etc. The detailed schedule is listed below. Register now !  For more information, please check: files/GlobalHAB-online-webinars_Announcement_.pdf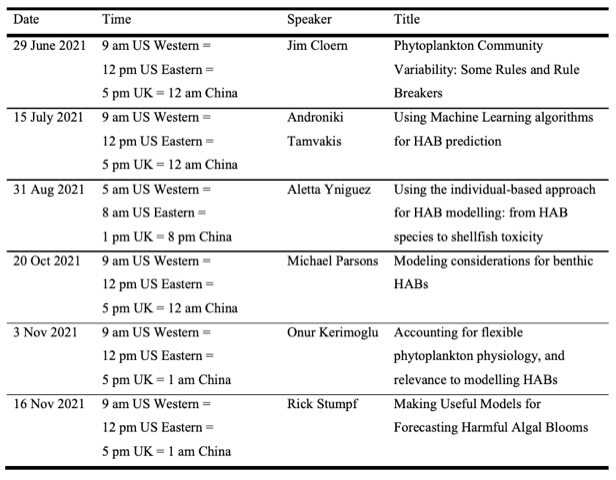 Modelling and Prediction of Harmful Algal Blooms
Read more
Show less
Abstract submission is now open for the GlobalHAB Workshop on Modelling and Prediction of Harmful Algal Blooms, co-sponsored by IOC-SCOR GlobalHAB, EuroMarine European Research Network, NOAA's National Centers for Coastal Ocean Science (NCCOS)  and the U.S. Integrated Ocean Observing System (IOOS). The workshop will be held at University of Strathclyde in Glasgow, UK, 9-13 May 2022.
The workshop (postponed from 2020 because of the Covid pandemic) will combine oral and poster presentations, round-table discussions, and tutorials in order to 1) increase awareness of the range of modelling and observational tools that are in our community toolbox (or should be); 2) help the HAB community speak with one voice regarding climate-change impacts on the global ocean; and 3) help scientists and technologists develop creative approaches to meeting the needs of coastal communities, governments, and industry worldwide. Sessions will include:
Regional problem-solving: linking models, observations, and stakeholder needs
Emerging approaches and technologies: physical and ecological model methods and observational capacities that open up new directions in HAB prediction
Global patterns and global change: links between HABs and environmental drivers at large spatial scales and on long time horizons
Scalable solutions: applications of global models, remote sensing, and other communal resources to predicting HABs and managing their impacts in data- and resource-poor systems
A priority for this workshop is inclusivity and balance in terms of national origin and career stage. We are able to waive registration fees and cover travel costs for a number of participants in support of this goal. Since the workshop is focused on discussion and small-group, informal interaction, it will not be possible to join it remotely, but we hope to make a number of presentations and other resources freely available online afterwards.
For more information and to submit an abstract, please see habmodelworkshop.sccoos.org. (If your abstract was accepted for the postponed 2020 version of the workshop it will be accepted again, but please re-register your interest at the link above.) Abstract submission closes 14 Nov 2021.
GlobalHAB session at PICES Annual Meeting:
Evaluating, Reducing and Mitigating the Cost of Harmful Algal Blooms: a Compendium of Case Studies
Read more
Show less
17-19 October 2019, Victoria, B.C. Canada
Over the last two decades, several reports have compiled what is known about the economic effects of harmful algal blooms. However, both the type and amount of available data are limited, and these reports largely have been compiled by marine scientists rather than economists. Most coastal states have neither conducted economic analyses of HABs nor collected data that can be used to generate reliable quantitative estimates of net economic impacts. 
This workshop will provide science-based progress towards achieving ocean Sustainable Development Goals. The output will be a guide on best practices for quantifying economic effects of HABs that focuses on establishing connections between HAB researchers and economists. A shorter version of the guide may be prepared for submission to a journal. The workshop also will (1) set priorities for the future, (2) develop partnerships among social scientists, economists and HAB researchers, and (3) hopefully, attract resources to the field.
Activity W18
Convenors:
Vera L. Trainer (USA),  corresponding 
Keith Davidson (ICES, WGHABD) 
Kazumi Wakita (Japan)
The final agenda can be found here
Outcome: The 2020 PICES Scientific Report (No. 59), titled GlobalHAB: evaluating, reducing and mitigating the cost of harmful algal blooms: a compendium of case studies can be downloaded here:https://meetings.pices.int/publications/scientific-reports
Advanced International Colloquium and Technical Workshop on Fish-Killing Algae and Their Effects
A Good Practices Manual to investigate the impacts of Climate Change on HABs
A scientific Summary for Policy Makers on mitigation strategies for freshwater cyanobacterial blooms
Free download at:  http://hab.ioc-unesco.org/index.php?option=com_oe&task=viewDocumentRecord&docID=26293
GlobalHAB theme sessions and engagement presentations 2018:
GlobalHAB Town Hall Meeting at ICHA17