GlobalHAB news and events are announced at the front of this web site and in the IOC 'Harmful Algae News' newsletter which also serves as the newsletter for GlobalHAB. Link to download of Harmful Algae News.
GlobalHAB Webinar Series - Modelling and Prediction of Harmful Algal Blooms
We are delighted to announce that we will start an online series of open seminars and discussions starting in June 2021 to address the grand challenge of predicting harmful algal blooms. This monthly series will be delivered by six experts and the topics will cover size-based models, acclimation models, model validation, and machine learning etc. The detailed schedule is listed below. Register now !  For more information, please check: files/GlobalHAB-online-webinars_Announcement_.pdf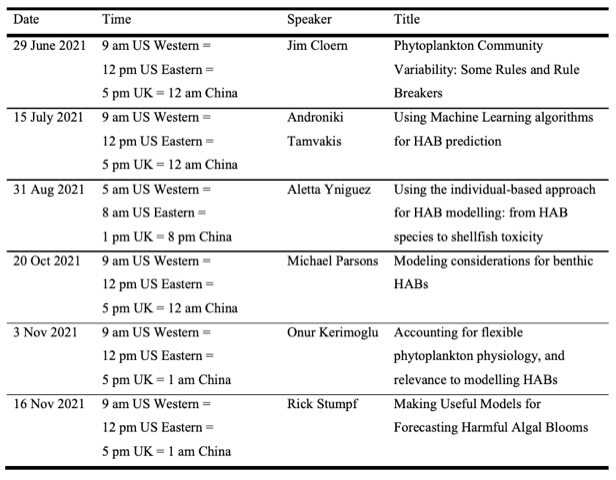 GlobalHAB symposium on automated in situ observations of plankton
Due to the worldwide Covid-19 crisis this activity has been postponed to June 2022.
The aim of the mini-symposium is to bring together experts on, and users of, automated in situ imaging systems, novel sampling equipment, etc. to present methods, and compare results of quantitative analysis of plankton communities. More information will be presented here later. The persons who registered their interest for participating in 2020 will receive information via e-mail. Others should watch this space for new information late 2021 or early 2022.
Preliminary dates for 2022
Monday, June 13 to Saturday, June 18, 2022
Venue
Kristineberg Marine Research Station
Kristineberg 566
Fiskebäckskil SE-451 78
Sweden
Preliminary deadline for expression of interest
February 28, 2022
Modelling and Prediction of Harmful Algal Blooms
GlobalHAB session at PICES Annual Meeting:
Evaluating, Reducing and Mitigating the Cost of Harmful Algal Blooms: a Compendium of Case Studies
Advanced International Colloquium and Technical Workshop on Fish-Killing Algae and Their Effects
A Good Practices Manual to investigate the impacts of Climate Change on HABs
A scientific Summary for Policy Makers on mitigation strategies for freshwater cyanobacterial blooms
Free download at:  http://hab.ioc-unesco.org/index.php?option=com_oe&task=viewDocumentRecord&docID=26293
GlobalHAB theme sessions and engagement presentations 2018:
GlobalHAB Town Hall Meeting at ICHA17